Parent Teacher Support Network
Possible ways to help:
Connecting with new families
Allergy pantry
Serving as a classroom liaison
Teacher support
Family support
Current Members:
Lorian and David Gibson, Laura Kocum, Luanne Koon, Andrea and Tommy Stanek, and Jennifer Roades
Pray With Us!
My Refuge and My Fortress
Psalm 91
He who dwells in the shelter of the Most High will abide in the shadow of the Almighty. I will say[a] to the Lord, "My refuge and my fortress, my God, in whom I trust." (vv.1-2)
For he will deliver you from the snare of the fowler and from the deadly pestilence. He will cover you with his pinions, and under his wings you will find refuge; his faithfulness is a shield and buckler. You will not fear the terror of the night, nor the arrow that flies by day, nor the pestilence that stalks in darkness, nor the destruction that wastes at noonday. (vv. 3-6)
A thousand may fall at your side, ten thousand at your right hand, but it will not come near you. You will only look with your eyes and see the recompense of the wicked. (vv. 7-8)
Because you have made the Lord your dwelling place— the Most High, who is my refuge[b]— no evil shall be allowed to befall you, no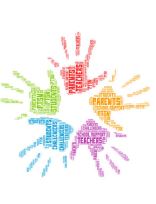 plague come near your tent. (vv. 9-10)
For he will command his angels concerning you to guard you in all your ways. On their hands they will bear you up, lest you strike your foot against a stone. You will tread on the lion and the adder; the young lion and the serpent you will trample underfoot. (vv. 11-13)
"Because he holds fast to me in love, I will deliver him; I will protect him, because he knows my name. When he calls to me, I will answer him; I will be with him in trouble; I will rescue him and honor him. With long life I will satisfy him and show him my salvation." (vv. 14-16)
What is the PTSN?
Our Mission:
To engage families, enhance education, provide support to teachers, honor God, show love to others through service, and connect families.
Statement:
Share the love of Jesus and enhance the experiences at Abundant Life Christian School (ALCS) by connecting and engaging families and supporting and encouraging teachers.
Values:
Exemplify justice, mercy, and humility (Micah 6:8)
Honor God & each other (1 Peter 2:17)
Cultivate a culture of relationship (Acts 2:42 and Acts 2:46-57)
Lift up the name of Jesus as we serve (Acts 4:12)