Need Help?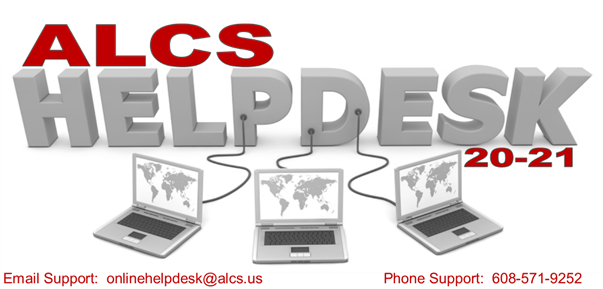 The ALCS Help Desk is available for questions about a class or the LMS by phone or email.
Phone Support: 608-571-9252
Mon–Fri, 8a-10a & 6p-8p plus Sat, 8a-10a
Email Support: onlinehelpdesk@alcs.us
Anytime during the day & ASAP on the weekends. (Emails after 8p may be answered the next morning.)
Digital Equity Resources
The Department of Public Instruction (DPI) has provided information on the DPI Digital Equity Gap
PSC Internet Helpline: The Public Service Commission has established their Internet & Phone helpline for Wisconsin consumers. Callers can speak directly with a dedicated staff member to learn about internet and phone service options available in their area and discuss eligibility for discounts on critical communications services. Please dial 608-267-3595 to speak with dedicated PSC staff or leave a voicemail.
Phone: 608-267-3595
Wi-Fi Map: This mapping tool displays public Wi-Fi locations that have been self-reported by entities and individuals to the Public Service Commission and the Wisconsin Department of Public Instruction. The map displays hundreds of locations where citizens can go to use Wi-Fi when it is not available at home while also maintaining social distancing during the COVID-19 public health emergency. New locations are being added as they become available.
​Wisconsin Public Wi-Fi Locations Map Website
Resource categories
Internet Offers: Several Wisconsin providers are offering resources to enable K-12 students to connect to the internet at home. This site is hosted by the Wisconsin Public Service Commission
Portable Access: This page lists offers currently provided by cell phone carriers
Connectivity Programs: A curated list of state and federal connection programs
Information and Resources: This page includes information for cybersecurity and student data privacy during virtual learning